So the plan was to get this post up much earlier on, but thanks to Blogger and Picassa being exceedingly uncooperative and refusing to let me upload any more images, it wasn't to be. Allegedly, I've used up all of my 1GB quota, although I fail to see how that can be the case. And then I find out that if you delete images from your Picassa web album then they also come off your blog. Nightmare! Anyway, Twitter saved the day once again, or should I say, some of you lovelies did - and I've been able to get my images up via Photobucket. If anyone else has this problem then just sign up to Photobucket or Flickr, upload your images and it'll give you a 'Direct link' for each one. All you have to do is choose 'upload from URL' next time you are trying to upload onto blogger (it's one of the options that appears down the side of the page when you have clicked on the little picture icon to choose your image). An alternative way is to go to
Image Maps
and you can map the images direct from your laptop to Blogger, but I haven't managed to do that yet - I will let you know more about that when I've had some success!
Anyway. Onto the matter at hand.
As promised, I do indeed have a little haul, consisting of a few bits and bobs I have purchased over the past few weeks.Unsurprisingly, perhaps, most of these goodies were purchased online, as that seems to be the place where my naughty little fingers sneak in a few extra keystrokes without my knowledge, and before you know it I have accidentally filled and paid for a virtual shopping basket of treats. I am usually a lady of some restraint these days, having learnt my lesson the hard way when I hit the age of eighteen and grown up a lot since then. However, of late, I have just been feeling the need, and this is what I've got to show for it.
Organix Brazilian Keratin Therapy Conditioner
My hair is in need. I am a terrible offender when it comes to forgetting to use heat-protective spray, and haven't had my hair cut in a while, and both of these things have started to take their toll. I've been feeling that my hair is lacking shine for a long time now, so fingers crossed that this stuff will work wonders. I've already used it a few times, and so far, me likey.
Garnier Body Intensive 7 Days
This is not normally the sort of moisturiser I'd go for, and in fact, I never would have picked it up if I hadn't seen one or two Youtubers raving about the stuff. I usually go for rich body butters with gorgeous, intense fruity/yummy smells, but I was intrigued enough to give this a go and so far, I'm quite impressed. I in't realise my skin was in need of some extra hydration until I tried it, but alas, it was - my skin is now loads softer and smoother. Full review to come.
Hits Glitter Polishes in Rio and Rome
These two have already featured in nail posts, one yesterday and the other last week, as I just couldn't wait to crack them open before taking these photos. Rome contains flecks of gold, white, pink and blue, while Rio is choc-full of blue, orange, pink and purple. I adore both of them and have been loving them over a simple black polish, as this really shows them off in all their glory.
Caudalie Teint Divin Tinted Moisturiser
Recently, having overhaule my skincare regime, I've found that I haven't really needed to use such full-coverage foundations, and despite it being winter, I've found myself favouringtinted moisturisers. I bought this in Fair to Medium, and while I haven't yet tried this out, I'm a bit worried, as it does look quite orange when I squeeze some onto the back of my hand!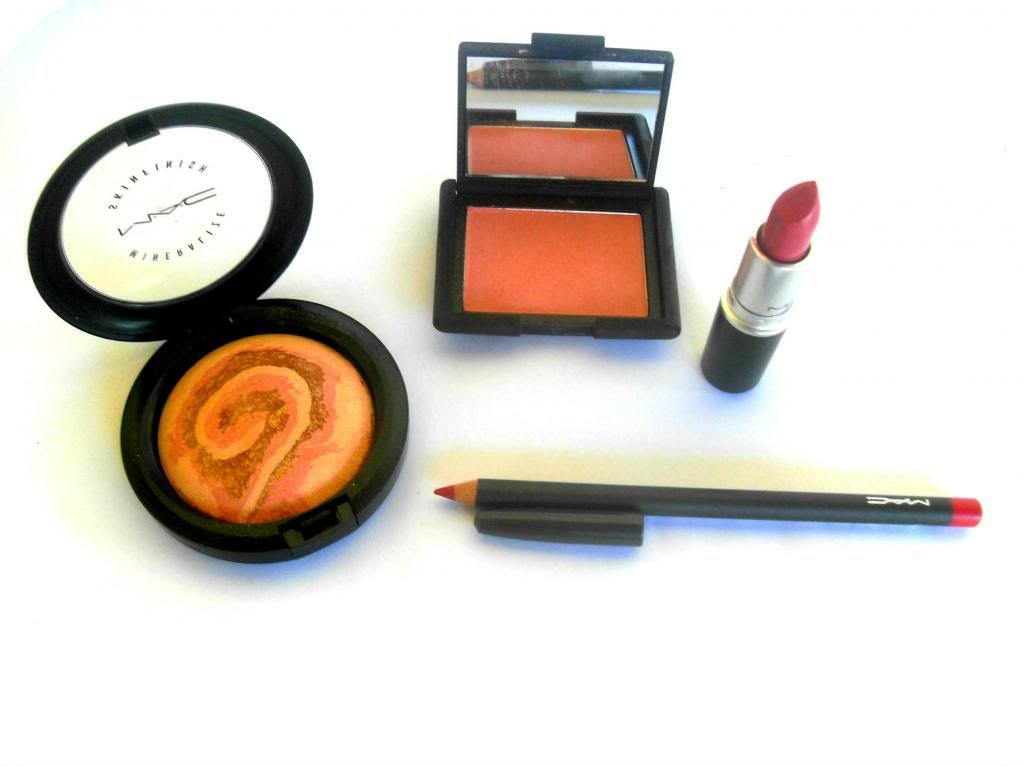 And finally, onto my favourite purchases!
Mac Mineralise Skin Finish in Light Year
I have had my MSF in Soft and Gentle for about a year now, and have been using it every day. Though I adore it, I wanted to mix things up a bit, so I decided to go for this warm-toned MSF in Light Year. The gold swirl through the middle is quite glittery, which I didn't realise when choosing, so I tend to avoid that when swirling my brush around the pan. It comes out a gorgeous medium peachy colour, with hints of pink (and obviously some gold shimmer, if youpick that up on your brush) and you could easily use this as a blush as well as a highlighter. So far, I think this is really pretty, but I won't go into too much detail as I will be writing a full review on this very soon - keep your eyes open for that if you'd like to know more.
Nars Powder Blush in Deep Throat
My first purchase from Nars! The photo really does not do it justice, as it's nowhere near as orange as it comes across - it's a much lighter, peachy-pink, not too dissimilar to Benefit Coralista, as far as I can see, albeit with a touch less pink, but the same amount of gold sheen. I haven't used this bad boy yet, but am really looking forward to test-driving it tomorrow.
Mac Lip Pencil in Cherry
I am one of those people on whom lip products just do not last two seconds. Ok, make that five minutes if we're being pedantic. But anyway, I have been meaning to pick this beauty up for ages. It's a blue-toned red, highly pigmented and slides on extremely easily - to the point that it's really quite difficult to apply neatly.
Mac Amplified Creme Lipstick in Craving
Amplified Creme is by far my favourite finish from Mac, so when I saw this gorgeous plummy-pink shade, I just had to go for it. It's perfect for the Autumn/Winter seasons and is such a wearable shade - I'm already hooked after one day.
And that's the lot!
Hope you enjoyed having a little nose into the contents of my shopping bags. Have any of these products tickled your pickle?
Have a fantastic weekend lovelies.
xx