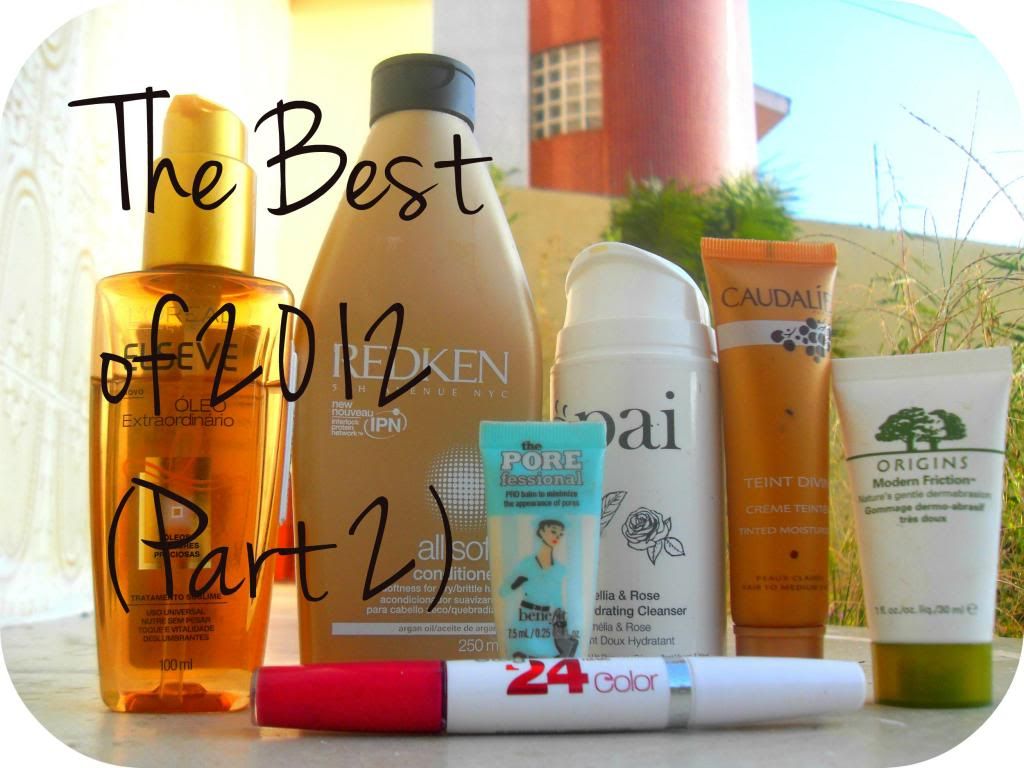 Hello lovelies, hope you're all well and are getting excited about the New Year celebrations ahead tonight! Whether you've got a big night planned or are hoping for a quiet one at home, I hope you have the most fantastic time!
As promised, here is part 2 of my Best of 2012 posts, featuring eight more fabulous products. I hope you enjoy having a look at what has impressed me this year.
Caudalie Teint Divin Tinted Moisturiser
I think what I like most about this stuff is that purchasing it coincided with my realisation that actually, I didn't need to wear foundation daily. This gem evens out my skin tone, as well as adding a hint of much-needed colour while still leaving my skin free to breath. A thin layer of this and a bit of concealer and I'm good to go - and not only that, but my skin looks pretty healthy too!
Maybelline 24 Hour Superstay Lip Colour
I haven't reviewed these yet, but keep your eye open as it's coming soon. These things are amazing!! If you read regularly then you'll know that no lip product stays on my lips for five minutes - well, at least it didn't, until I tried these babies! I literally put it on in the morning, and it'll still be there when I get home at night. I did leave it on overnight once to experiment, and yep - still there in the morning, although a little the worse for wear. I'm so, so impressed with these, and really glad I decided to give them a go.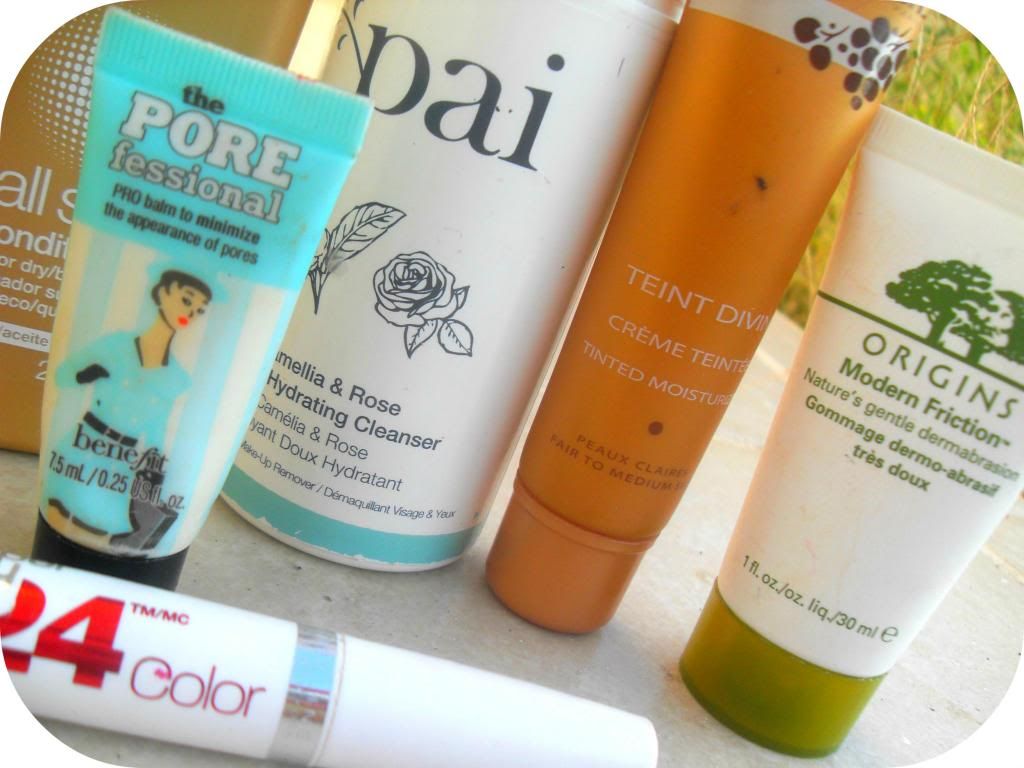 Pai Camellia and Rose Gentle Hydrating Cleanser
I absolutely adore this cleanser, and while I am currently tring out another one, I have no doubt that I'll come back to this one at some point. It's another one of those products that I know my skin will always be happy to see. Not unlike the Liz Earle Cleanse and Polish, this is also a hot cloth cleanser, a concept which I've come to adore. It leaves my skin feeling fantastically clean and soft, and is also gentle enough to use on my eyes - plus it removes every last scrap of makeup.
L'oreal Glam Bronze Blonde Harmony
(not pictured as I don't currently have it)
I'm not even blonde, but the two shades combined are just the perfect contouring shade for my light skin-tone, and give me a really healthy holiday-type glow. It's also matte, which is an added bonus, as I feel that this makes it much more versatile as a product.
Benefit The Porefessional
I had always shied away from primers, mainly because I saw them as just the latest gimick designed to make us part with our pennies. I didn't imagine they'd make much of a difference, but when I got this free with Glamour magazine back in the summer, naturally I was intrigued and had to give it a go. I use this just on my t-zone, which tends to get slightly oily throughout the day, and I find that this really helps to keep that at bay. Something else which has hugely impressed me about this is that even with daily use, a 7ml tube has lasted me six months, and still isn't quite finished.
Origins Modern Friction
Hands down the best facial scrub I've used, putting paid to any areas of flakey skin immediately and leaving me with glowing, refreshed skin. Bit of a no-brainer really.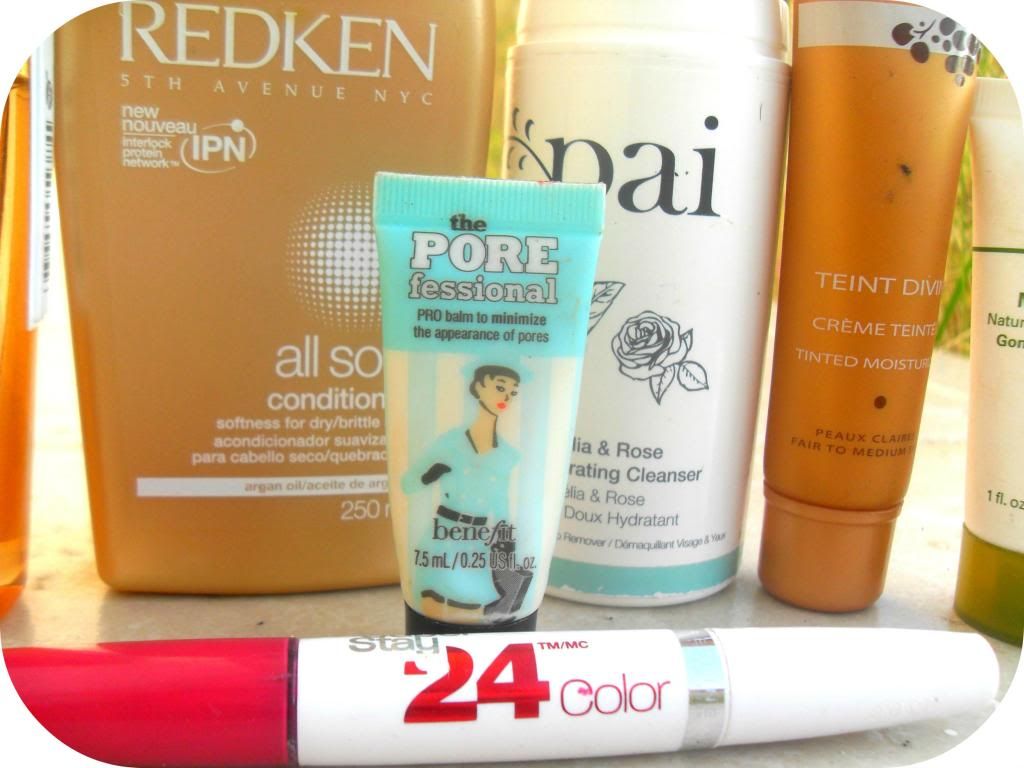 Redken All Soft Conditioner
An absolutely fantastic conditioner, which has helped breathe some life back into my damaged, distressed hair, leaving it much softer and smoother. This one really helped me out in a time of need, as at once point I was tempted to chop my entire mop off in frustration!
L'oreal Elvive Extraordinary Oil
For much the same reasons as above. This has become a staple in my haircare routine, both on wet and dry hair. I run some through while damp for smoother, more manageable locks, and if I notice my ends starting to dry out or frizz up during the day then a pump of this soon puts them back in their place. This doesn't weigh hair down or make it greasy at all - mine just drinks it up. Plus, it smells amazing.
So, there you have it - my Best of 2012 products, done and dusted! I hope these posts have had you nodding in agreement with one or two of the products, and if not then that perhaps you have seen something you might like to try in 2013. Once again, I'd love to know what your hero products of the year have been, so please do link me up if you have done a similar sort of post, otherwise just let me know in the comments below - I'd love to know what's worth trying in the new year.
xx