A couple of weeks ago, I posted a Youtube video about my current skincare routine, and at the time, I said I would also be writing a blog post on the subject, as I know that videos are not to everyone's tastes.
So, today I'm going to be taking you through the products I use on my skin on a day to day basis, as well as those I use to give myself an extra little treat throughout the week.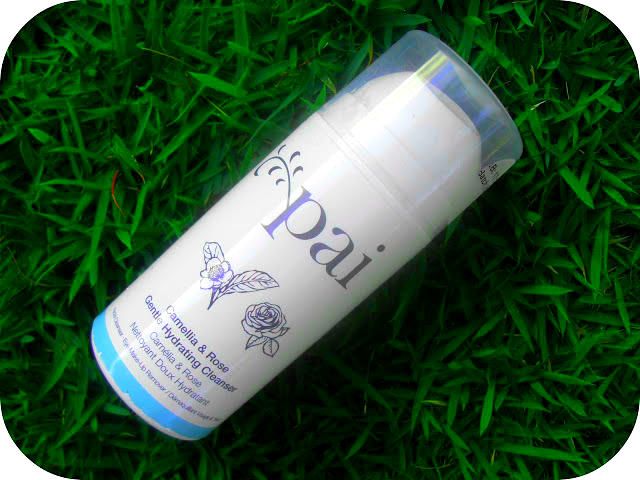 Pai Camellia and Rose Gentle Hydrating Cleanser
This is a beautiful cream cleanser, which works in much the same way as the Liz Earle Cleanse and Polish, in that you can massage it into your face without adding any water, before removing it with a warm muslin cloth. It's a lovely, gentle product which can even be used to remove eye makeup, and it gets off every last scrap of makeup, leaving my skin feeling smooth, clean and soft. It's packed with essential oils and nice natural ingredients, and if you know are a regular reader then you'll be aware that I'm a huge fan of organic and naturally derived skincare (you're going to see apattern throughout this post!).
I use this cleanser twice a day - once in the morning, and once in the evening, and I'd highly recommend it. Full review
here
..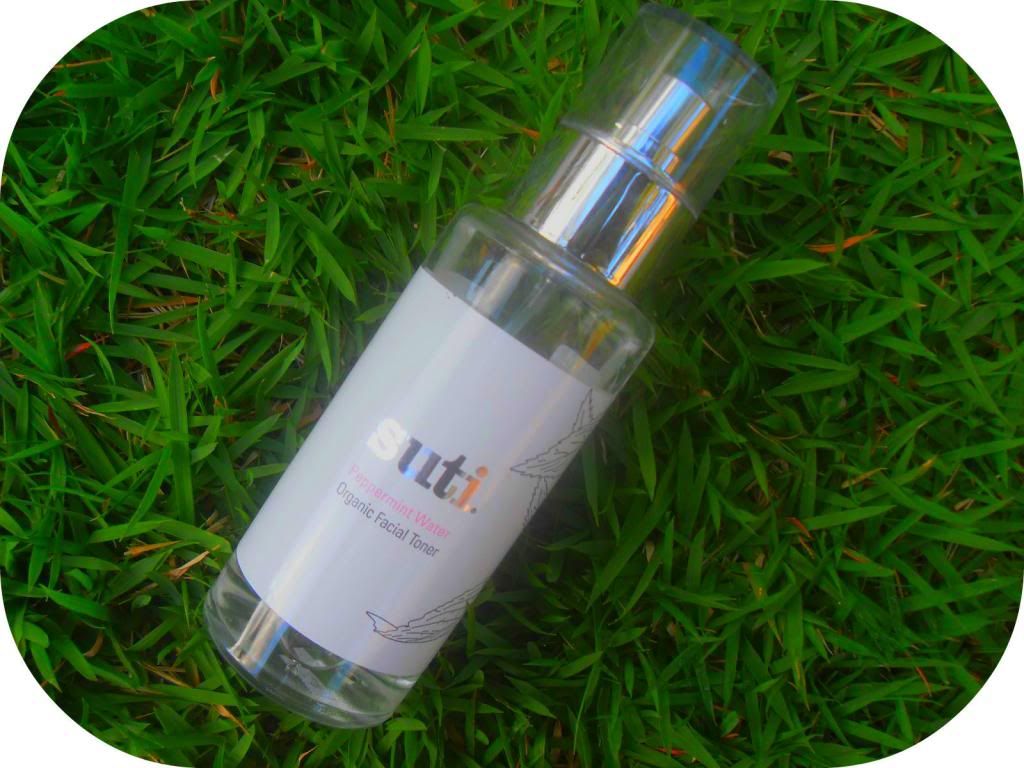 Suti Peppermint Water Organic Facial Toner
After cleansing, I like to use this lovely, soothing toner, which comes in a spray bottle and can be either spritzed onto the face or popped onto a cotton pad and swept over the skin. personally, I prefer to spritz, as I find it really refreshing, but if I hadn't used such a thorough cleanser then I might go for the cotton pad option, just to remove any last traces of grime.
Peppermint is really relaxing and calming, so it's great for use before bed as well as for waking up in the morning. In fact, I usually carry this one in my bag with me, as it's a great mid-afternoon pick me up for dehydrated, tight skin as well as a tired mind.
Review
here
.
Spirit of Beauty Dancing Orchid Skin Balancing Moisturiser
I tend to chop and change when it comes to moisturisers, but this is the one I'm currently using. It's really light and quite liquidy/watery in consistency, and it sinks easily into the skin. It also has a pleasant orchid scent. This one doesn't have any SPF in it though, so it's not the kind I would usually go for during the day (I was lucky enough to win this), nor is it as rich as I would like for night time. It does leave my skin feeling soft and smooth though, so I'm going to continue using it until I finish the bottle.
I moisturise after cleansing and toning, both morning and evening.
Review
here
.
So, those are the three products I use every day, without fail. Next up are some masks and treatments I tend to use once or twice a week, to keep my skin in tip-top condition.
Origins Modern Friction
This product calls itself 'nature's gentle dermabrasion', and it's essentially just a really good, non-abrasive scrub. I tend to use this two to three times a week, and I find it to be a fantastic product. It does a much better job than any other scrubs I've tried at removing dry skin, as well as sluggish skin cells, and leaves me with glowing, healthy-looking skin. It also has a pleasant lemony scent.
You only need to use a tiny bit of this. You basically pop some onto a clean, dry face and massage it in, using little circular motions for a minute or so. After that, you can add a dash of water and keep massaging it in until you're satisfed, before rinsing and patting your face dry with a towel.
Review
here
.
Origins Clear Improvement Active Charcoal Mask
This is my favourite facemask, and is fantastic at giving the skin a deep-down clean. To use, I steam my face for a few minutes over a bowl of hot water to open my pores, and then slather some of the mask on. It dries rock-solid in about ten minutes, so much so that I can barely move my face with it on. I then soak a muslin cloth in hot water and lay it over your face, allowing it to soak up some of the mask. I repeat this a few more times before using the cloth to remove any residue.
It might seem that I use this in a very specific way, but actually this is how the instructions suggest you do it for the best results.
I use this mask twice a week and it leaves my pores looking so clean - in fact, after the first use I was pretty impressed because I hadn't realised my pores
weren't
clean beforehand! It doesn't
completely
rid me of those stubborn blocked pores on my nose, but it certainly does make them easier to remove, which is more than any other masks I've tried.
Ren Glycolactic Skin Peel Mask
This one both looks and smells like marmalade, thanks to the fruit acids it contains. It's not what I'd call a classic peel mask, in that it doesn't dry or peel off, but it does gently exfoliate and slough away any old skin cells, leaving me with a lovely, glowing complexion. Usually I find that I don't notice the difference until the next day, but it's certainly nice to wake up with lovely skin. I love the fact that Ren prides itself on using all-natural active ingredients, and it really makes me feel confident using their products.
I usually only use this one about once a week, but that's mainly because I only have a travel-size tube and am trying to make it last.
Review
here
.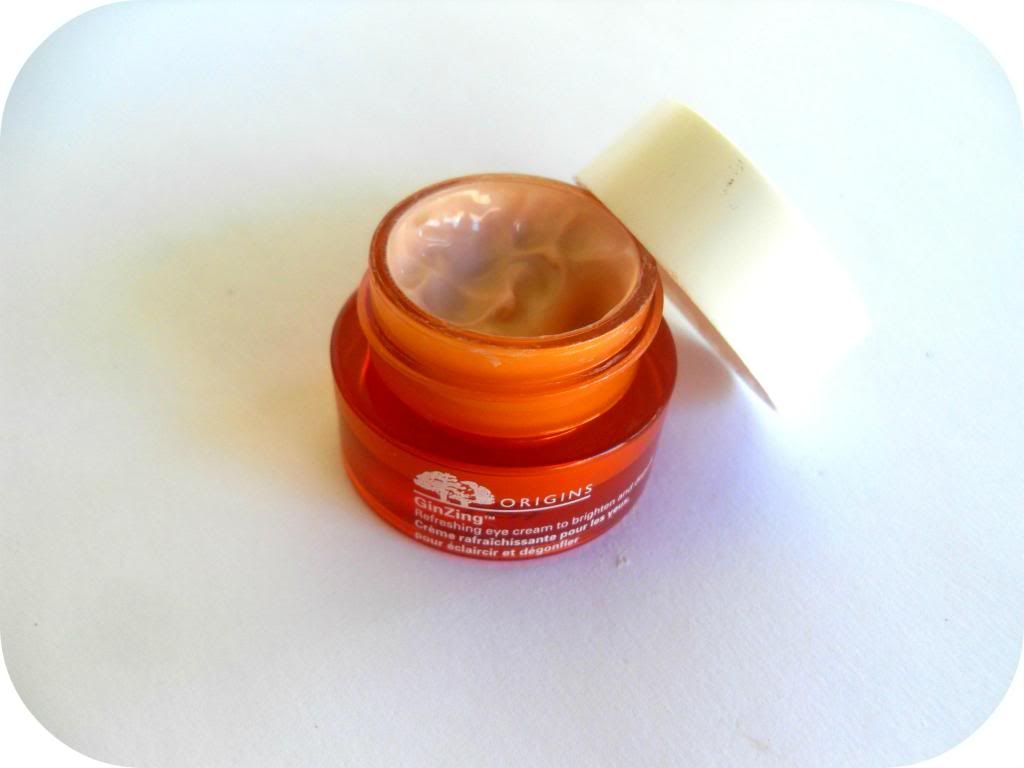 Origins Gin Zing Eye Cream
This is a little extra that I use on a daily basis, though if you read my review of it (HERE) then you'll know that I'm not overly impressed with it. I bought it in order to reduce puffiness and the appearance of dark circles, and I don't feel that it does a lot for either of these causes. But still, as a basic eye cream I do find it quite nice and hydrating, and it does brighten the under-eye area a little. As I've spent good money on it, I'll continue to use it, as I am not planning on wasting any more pennies on trying out eye creams for dark circles.
I pat this on in the morning, usually at the same time as moisturising, and although I'd usually go for more of an anti-ageing eye cream before bed, I don't currently have one, so I've been going with this.
Review
here
.
So, there you have it - my current skincare routine in all it's glory. I have to say, it's really doing the job for me, as my skin is much brighter, clearer and smoother than it has been in some while. I have always had pretty good skin anway, but until I implemented this routine I had been getting breakouts around my chin for a while, which had been really bothering me. Thankfully, it's rare that I get a spot these days, but when I do I usually dab them with Propolis, as I find that this gets rid of them pretty sharpish!
I hope you enjoyed reading.
Have you tried any of these skincare products? If so, what did you think?
Which skincare products do you swear by?

xx