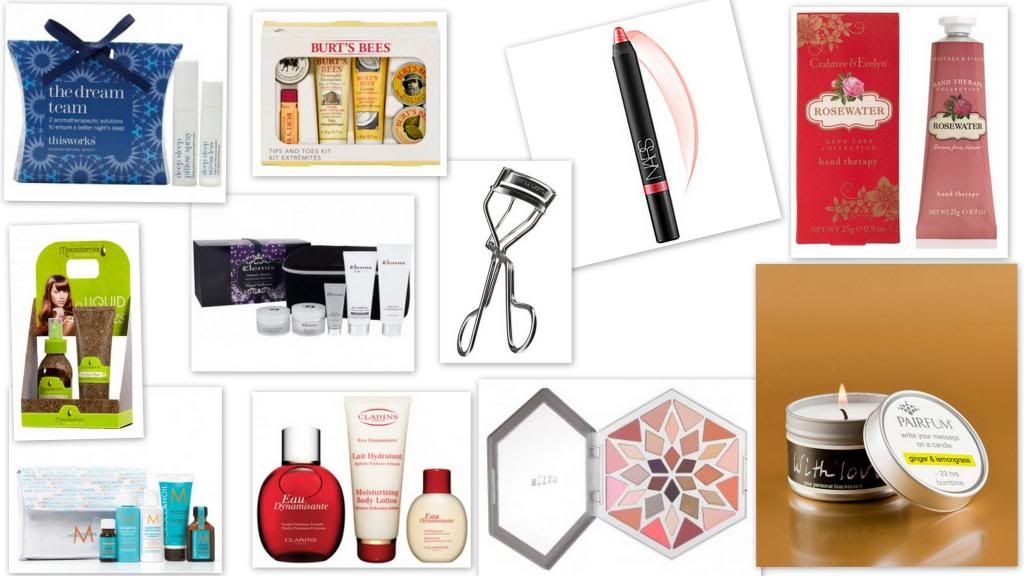 How had I not thought to look at the Christmas gift sets on Feel Unique until now!? To be honest, I'm a bit gutted that I didn't, as they have the best selection of present-worthy kits I've seen anywhere this year. with all sorts of brands, from Elemis to Crabtree and Evelyn, Burts Bees to Clarins - and all in one place. In fact, there are actually loads of gift sets on there that I haven't seen anywhere else.
So, as a result of my last-minute browsing, I've compiled a selection of gifts that I would love to receive - and hopefully they might give one or two of you some ideas if you've still got some last-minute presents to buy, and are feeling a bit stuck.
I would just like to point out that this is in no way a sponsored post - I am just genuinely really impressed with Feel Unique's selection of festive treats! There are a couple of bits from House of Fraser too ( the Shu Uemura eyelash curlers and the Nars Velvet Gloss Lip Pencil), which are not exactly designed to be Christmas gifts, but I'd be thrilled to find them in my stocking.
I love the sound of the This Works Dream Team Duo, which contains a Deep Sleep Pillow Spray and a Deep Sleep Stress Less (something like a Rescue Remedy), as anything geared towards relaxation is my cup of tea, and this is a snip at just £10. I'm also eager to get my hands on the Elemis Majestic Beauty Advanced Skincare set, as I've been meaning to try some of their skincare for a while now, particularly the Papaya Enzyme Peel, which is included in this gift. At £65, it's definitely on the pricey side, and I won't hold my breathe for this one as I am fairly sure I've already got some new Origins skincare coming from Santa :)
The Clarins Eau Dynamisante Wake Up gift set consists of an invigorating fragrance spray, moisturising body lotion and a shower gel, and while I would usually fork out for high-end body products, this would make a really nice gift - I know my mum would love it. It is £45.80 though, so again, not cheap.
The Burts Bees Tips and Toes set, Crabtree and Evelyn Hand Therapy Stocking Filler, Moroccan Oil and Macadamia gift sets and Stila palette would all make fantastic gifts too. I've been getting more into haircare lately, and am also trying to get back into wearing eyeshadow and taking better care of my hands, so these would all fit the bill nicely. And as for the Pairfum Soy Message Candle, well, who doesn't love a delightfully scented candle? This one smells of red berries, chestnuts, vanilla and nutmeg, which frankly sounds incredible, and perfect for Christmas.
So, that's the lot. Are any of these on your Christmas Wishlist, or have you picked up any of these goodies for your loved ones?
Hope everyone's having a lovely weekend!
xx
xx