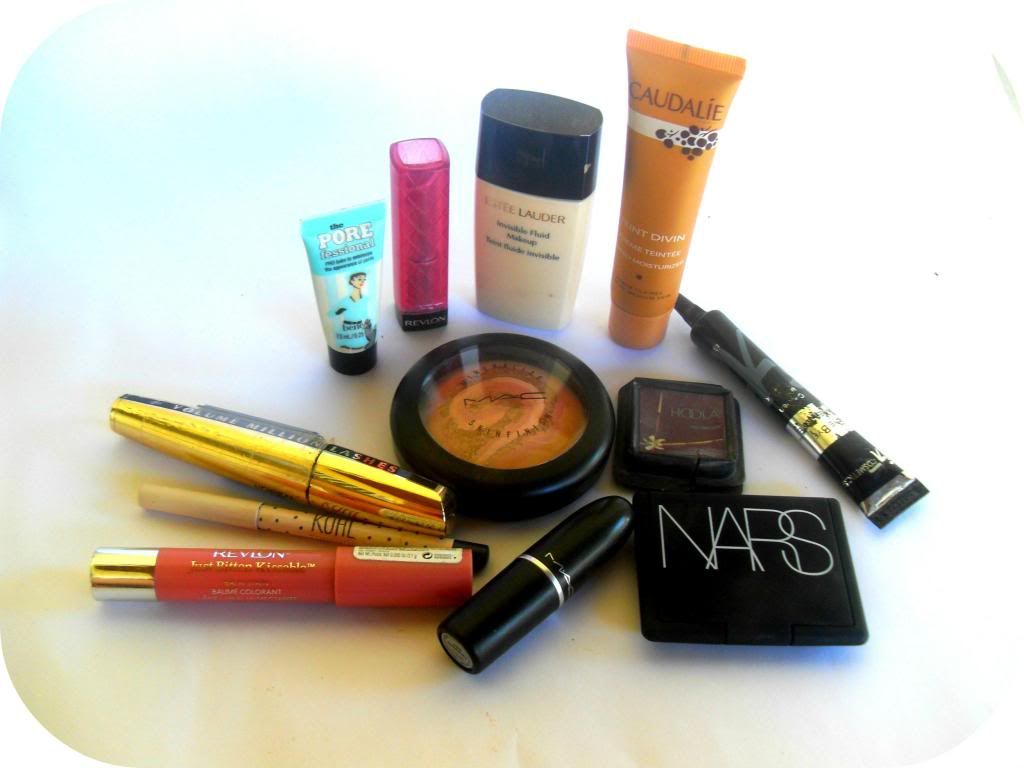 Today I thought I'd share the current contents of my makeup bag with you. When I say makeup bag, I mean the bits from it that I am finding myself reaching for the most - if I showed you the entire contents then a) it'd take an absolute age, as it's huge, and b) goodness knows what we'd find in there!
So, without further ado, here they are.
IT Cosmetics Concealer (shade Neutral Medium)
I had never heard of this concealer before, but whilst on the hunt for something industrial strength to cover my dark circles and replace my Benefit Erase Paste. I actually found this on Ebay, and while I would never usually buy makeup on there, this was from a trusted seller from whom I have bought other types of products in the past. Anyway, I thought I'd give it a try. This is a thick, pale concealer with a dewy finish, and it does leave my under-ee area looking quite refreshed and bright. But it's not a miracle worker. Nothing is.
Estee Lauder Invisible Fluid Makeup
I got this one back in the summer, and during the warmer months I found myself wanting to reach for tinted moisturisers more and more. This has actually continued on into the winter, bucking the usual trend, as I just haven't wanted to go back to the feeling of something heavy on my skin. It helps that my skin is in pretty good condition at the moment thanks to a good skincare routine, so I don't find that I need too much coverage. This Invisible Fluid Makeup literally blends straight in with my skin. It's so light, and matches my skin-tone perfectly, evening it out and giving me a healthy-looking complexion. I actually haven't done a full review of this one yet so watch this space as I'm planning on writing one soon.
Caudalie Teint Divin Tinted Moisturiser
This is another light skin product I've been reaching for, and whilst this looks scarily orange when you first squeeze it out, it does blend nicely into the skin and leave you with a nice glowy complexion. To be honest, I've only been using this one for a coupleof weeks, but so far I'm quite liking it.
Benefit The Porefessional
I got this little tube of goodness free with Glamour magazine about six months ago, and it's still going strong despite it's tiny size. I do only use this on my t-zone, but I really like it for mattifying the area and creating a silky-smooth base for my tinted moisturiser to glide onto. I really like the fact that it keeps oil at bay and have already got my hands on a stand-by tube for when this one runs out.
Benefit Hoola Blush
Please excuse the scruffy packaging. For a start, this is only a sample size, and secondly I did try and give it a good scrub so that it would look it's best for the cameras, but it just wasn't cooperating.
Actually, this is not my favourite bronzer ever, and whilst I do find it ok, I was a little bit disappointed with it considering how hyped up it's been. I much prefer the L'oreal Glam Bronze Blonde Harmony, which is the perfect shade for me despite being a brunetter, and leaves my skin looking really healthy. Like Hoola, it's a matte blush, so no disco-ball effect to worry about.
I'm using Hoola at the moment because I haven't got anything else.
Nars Blush in Deep Throat
This is a really pretty light peachy-pink shade, which I have been really enjoying using since I got it a couple of weeks ago. I had run out of my all-time favourite blush (Benefit Coralista, if you're interested), so I thought it was time I finally took the pricey plunge and tried out some Nars. This has fast become a favourite of mine, although it still hasn't knocked Coralista off the top spot.
Mac Mineralise Skinfinish in Light Year
I actually posted a full review of this beaut last week. Being a huge fan of the MSF in shade Soft and Gentle I was keen to get my paws on another one, and this one was so beautiful it just jumped out of me. This is a peachy-pink with gold shimmer, and looks really pretty worn both as a highlighter and as a blush.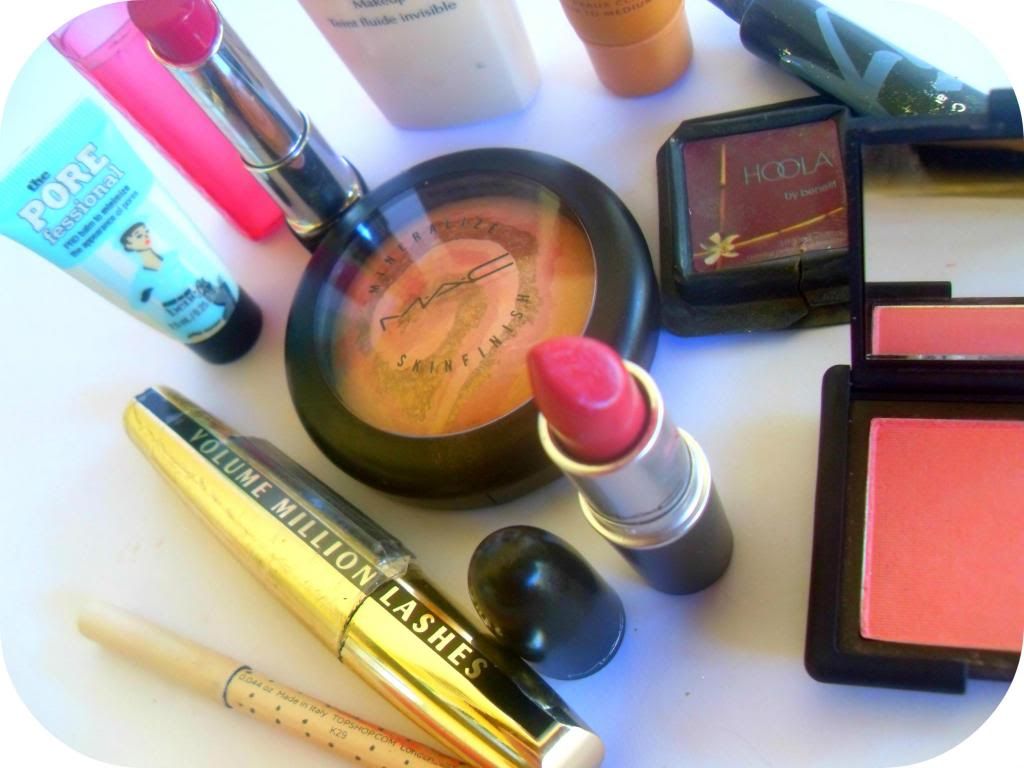 Mac Amplified Lipstick in Craving
This is a gorgeous dusky berry pink shade, and is actually darker than it appears in the photos. I am really loving this lipstick at the moment and find it the perfect colour for the winter months. The staying power is actually pretty good too, and that's saying something if you're me, as nothing lasts two seconds on my lips.
Revlon Colorburst Lip Butter in Raspberry Pie
I got his one back in the summer, but have resurrected it for A/W. It's a highly pigmented berry-pink shade which applies easily and moisturises the lips. Win.
Revlon Just Bitten Kissable Balm Stain in Honey
This has become my go-to on those days where I feel like going for more of a natural look, or I can't be doing with the maintenance of a bold lip. This really is a classic 'your lips but better' shade and so I always carry it with me in my handbag. Being a balm stain, this is also quite moisturising, which - let's be honest - we could all do with a bit of help with in the colder months.
L'oreal Volume Million Lashes Mascara
This is my all-time favourite mascara and I'll repurchase it again and again. It leaves my lashes looking really long and voluminous, but they also look nice and natural - none of this clumping or spider-leg effect. Love.
Topshop Eyes Kohl Liner
This is a deep, dark navy blue, the name of which I unfortunately have been unable to find out. To be honest, I haven't been using much eyeliner of late, but if I do fancy something to define the lower outer corners of my eyes then this is it.
You might have noticed that I haven't included and eyeshadows in here, and that's because I rarely wear them nowadays. However, in the last week or so I have found myself getting really into Tanya Burr's makeup tutorial videos over on Youtube, which has resulted in some experimentation of my own. So watch this space - we may make an eyeshadow wearer out of me yet.
Well, that's it for my current makeup-bag favourites, hope you enjoyed having a little rummage and a nose around!
What are your makeup staples this season?
xx