Last weekend, I posted a Youtube video on my current haircare routine, so now it's time to follow that up with a detailed post for those of you who aren't keen on watching videos. I've also added in some extra products I have been using of late, that didn't feature, so hopefully even if you have already seen the video there will be something for you in this post.
I've had dry hair for what seems like an age now, and had tried various different deep conditioners and DIY hair masks, but nothing could ever quite cut the mustard. So, when I had my hair coloured earlier this month, which left me with pretty frazzled, dry and frizzy ends, I decided that it was time to invest in some proper, decent haircare in order to nurse my poor locks back to health. So, I will talk you through the new additions to my routine, letting you know my thoughts on them so far, and finish up with some old trusties that I've been using for a while now.
Redken Extreme Shampoo
This was the first product I went out and bought, having done my research and read that it was excellent for brittle, damaged ends like mine. It's designed to put the protein lost during the lightening process back into your hair, therefore providing the hair with what it needs to become strong and healthy. It smells a fair bit like Calpol, and lathers up really well. I can't really say what results this alone has given me so far, as I have been using it in conjunction with lots of other new products, but I do know that it leaves my hair feeling really thick and clean when I have just rinsed it out.
Redken All Soft Conditioner
This stuff is fantastic. It smells like honey, and as soon as I start to massage it into the ends of my hair, I can almost feel them relax! My hair suddenly starts to feel smooth, supple and silky, which I love! I think this has probably been the biggest saviour of my hair so far. It was the last thing to be added into my routine, and it was then that I started to notice more of a difference in the condition of my hair.
Organix Brazilian Keratin Therapy Conditioner
Now, a couple of weeks ago I was all ready to review this and say it was useless, but I'm glad I waited as I am now finding myself quite liking it. When I used it on my hair before it had been coloured, it seemed fine, though nothing special. But when I had had it coloured, this conditioner didn't seem to do anything for my hair. I now think that my locks were just in such bad condition that it was too big a job for this product, but now that my hair has got some strength back it seems to be responding better. This makes it feel nice and silky in the shower, though I still need to follow up with other product when I get out if I don't want to end up with a tangled barnet. Again though, I put this down to the sorry condition my hair has been in, as I find the same regardless of what I've used.
Organix Moroccan Argan Oil Intense Moisturising Treatment
Now, I'm going to be honest about this one. It's not for me. That's not to say that it won't work for other people, but this honestly leaves my hair in a tangled, matted mess - far worse than it has ever been before. I really can't understand how it could have that effect, but it does - either that, or my hair becomes matted when shampooing and this just doesn't do the job it should do afterwards. Either way, I have found this product disappointing and won't be repurchasing.
Redken Extreme Anti-Snap Leave-In Treatment
This one has been another great saviour, as it's the only thing I can put in my hair that gets rid of the tangles and knots. I work a couple of pumps-worth through towel-dried hair, and it just makes it SO much easier to brush through. This is also, like the Extreme shampoo, designed to put protein back into your hair, strengthening it and preventing it from breaking off. I must say, my hair seems much stronger since I started using this, and I haven't noticed any more split ends.
Organix Coconut Milk Leave-In Nourishing Milk
This is basically a leave-in conditioner, and it smells ah-mazing (funnily enough, like coconut milk). I carry this around with me in my bag and spritz it through my hair whenever it's starting to look a bit parched, as a bit of a refresher, and it seems to be quite nourishing. I really like the idea of using something extra in my hair after it's been washed and conditioned, as it makes me feel more confident that my hair is getting everything it needs throughout the day. Plus it smells like holidays.
John Frieda Luxurious Volume Volume Refresher
This little spray claims to revivve volume when hair falls flat, and it certainly does that. Plus, it's a dry shampoo, so what's not to love? This is another one that comes with me in my handbag, and it's great for freshening up your fringe if you have one, like I do. I always find that my fringe is the first thing to go lank or oily, and given that it's also the first thing people see when they look at me, I like to keep it looking clean and fresh!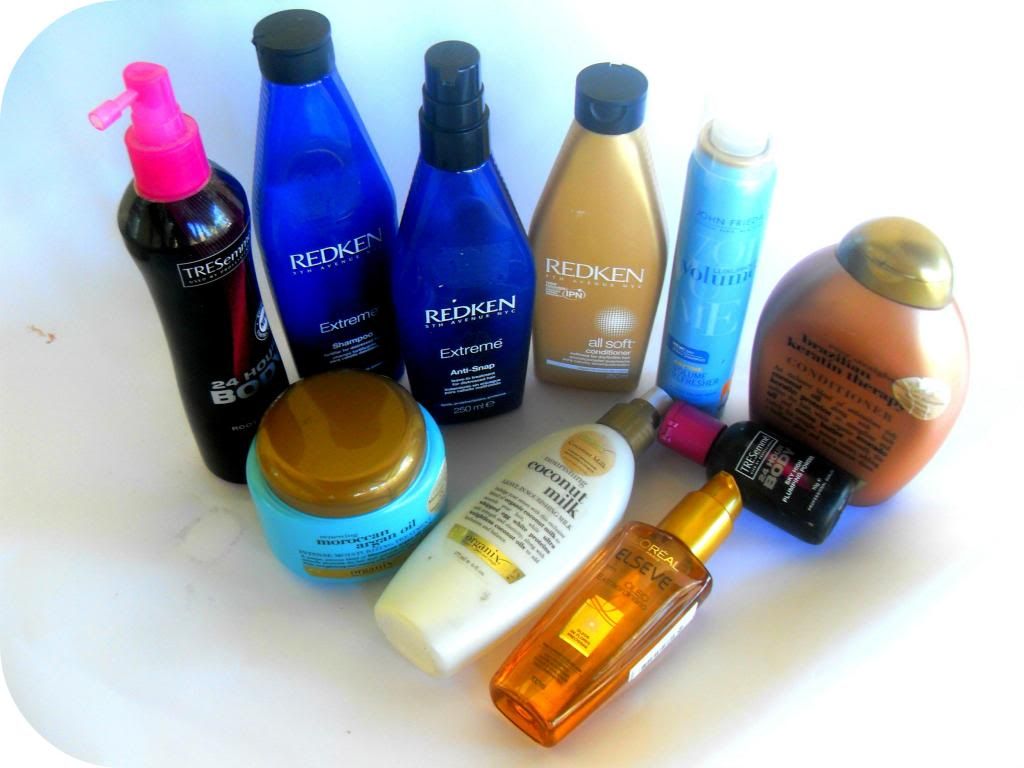 So, those are all the new additions to my haircare routine. Now onto some that have been around a bit longer.
Tresemme 24 Hour Body Root Boosting Spray
I've got quite a lot of hair, but it is quite fine, so I need all the help I can get when it comes to volume. I spray this through my roots before blow-drying for some extra lift
L'oreal Elvive Extraordinary Oil
If you saw my review on this one a couple of months ago then you'll know that I was dead against hair oils before this. I'd tried one in the past, and had hated it, feeling that it weighed my hair down and left it looking greasy. But having heard many a rave review on this stuff, I decided to give oils one last try, and I'm glad I did. I actually run a couple of pumps of this through my hair before drying it, and I really find that it helps keep my hair looking smooth and frizz-free, which has been a godsend for my frazzled ends. I also tend to smooth a bit of this on later in the day, if my locks are starting to look a bit unruly. One important thing to remember with this though, is to avoid your roots and your fringe like the plague!
Tresemme 24 Hour Body Sky High Plumping Powder
I actually don't use this one very often. While it's great at giving my roots a boost and helping me to achieve big hair, using it means my hair is in need of a wash again much sooner than it otherwise would be, so I tend to save this for special occasions. It's basically a powder that you rub into your roots and voila. It does leave my hair feeling a bit sticky though, and needs to be used sparingly.
Phew. Well, that was a long post. I hope you enjoyed having a peek into what my hair and I get up to! I will be posting full reviews of the newer additions to my regime over the next couple of weeks, so do keep your eyes open if any of them appeal to you.
Hope everyone's having a lovely Sunday!
xx