It's no secret that I suffer from puffy eyes and eye bags, and that I will try pretty much anything in order to rid myself of them. The reason I find them so distressing is because I haven't always had them - everything was fine, and then I woke up one morning about six months ago, and there they were. They have been refusing to budge ever since. I eat well, sleep well, don't drink much any more and don't smoke, so having covered all of those bases, my only option is to plough my way through product after product on a quest to find the one (if it exists) that works for me.
As a fan of Origins skincare, and having heard many good things about their Gin Zing eye cream, I was itching to give it a try. Gin Zing contains caffeine, Panax Ginseng, Magnolia extract and natural optic brighteners, which work together to - in the words of Origins themselves - 'wake up, refresh and restore radiance to tired eyes'. It's also supposed to reduce the look of dark circles while making the appearance of bags and puffiness less visible, so needless to say, I couldn't wait to put it to the test.
The cream itself is a pale salmon colour, and contains little reflective particles, which helps to counteract and blue/purple tones under the eyes. It is light in texture, sinking easily into the skin. It's not sticky in the slightest, and makeup applies easily on top of it, gliding on smoothly.
So, now onto the most important part:
Does it do the job?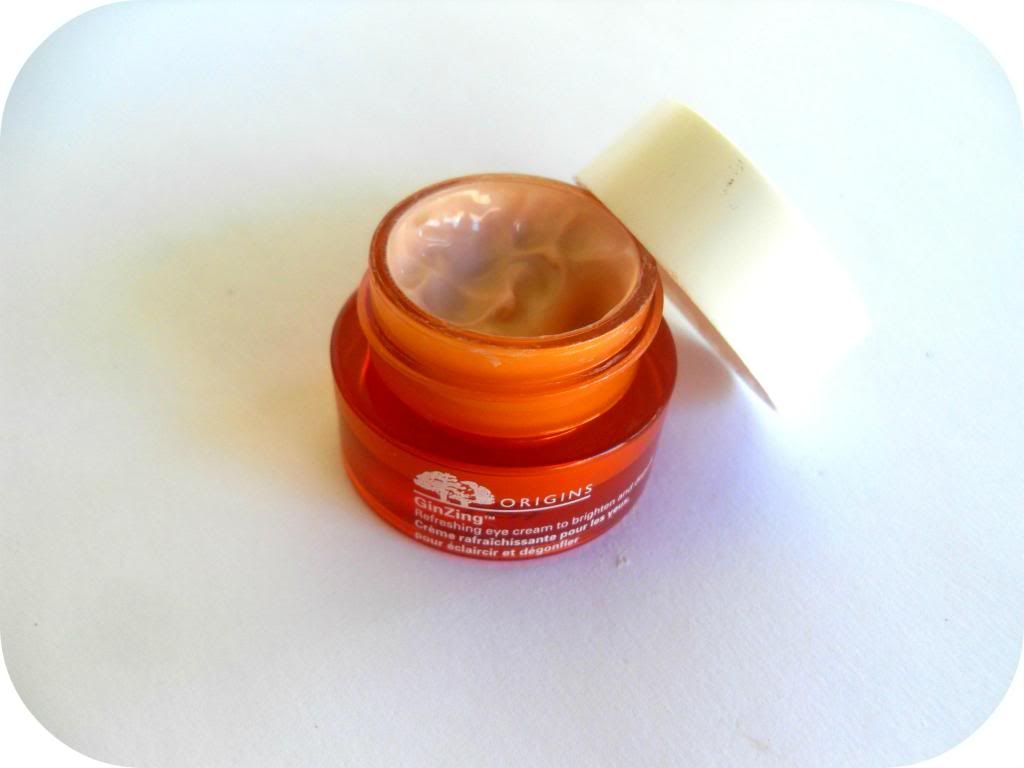 Well, unfortunately for me, the answer is a reluctant no. I wanted so badly for this to work, especially with it being from one of my very favourite and most trusted skincare brands, but in all honesty, I can't see that it makes - or has made - much of a difference. I still find myself catching a glimpse of my eyes in the mirror an hour or two later and feeling overwhelmingly frustrated at my tired looking eyes, so I think that says it all really. There's no denying that it certainly does keep the under-eye area hydrated, and perhaps it does have some effect, but if that's the case then I have to say, it's very minimal.
I still finding myself using this cream on a day to day basis, partly due to wishful thinking and partly because I can't bear to fork out on yet another eye cream that doesn't really deliver - at least, not in the way that I had hoped.
At £21.00 for a 15ml pot, it's fair to say I won't be repurchasing this particular product. However, as a brand, I am very much a fan of Origins, so I'm hoping that perhaps I might have more luck with their No Puffery under-eye mask.
Have any of you lovelies tried Gin Zing or No Puffery? If so, what were your thoughts?
And what are your favourite products for tired eyes, puffiness and dark circles?
xx